Pentasodium Diethylenetriaminepentaacetic Acid (DTPA.Na5)
CAS No.: 140-01-2 EINECS: 205-391-3
Molecular Formula: C14H18N3O10Na5 Molecular Weight: 503.26
Structural Formula: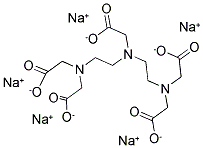 Property:
DTPA.Na5 is a chelating agent that sequesters metal ions so they cannot combine with other ingredients in a product.
Specification:
items
index
Appearance
Light yellow liquid
Assay:
40%. min
Colority:
250

APHA

max.
Specific Gravity:
1.3
Bulk Density:
1300 kg/m3
PH Value(1% of the solution):
11.0-12
Chelated Value:
80 mg CaCO3/g
Usage:
DTPA.Na5 is used in soaps as a water softener. It is also used to protect dyes and perfumes from combining with metals in solution.
Package and Storage:
Packed in 250kgs in polyethylene drum or IBC drum store in a cool, dry place.
DTPA.Na5 should be store in a tightly closed container.
Key Words:
DTPA.Na5, pentasodium carboxylatomethyl)Iminobis(ethylenenitrilo)tetraacetate; diethylene triaminpenta acetic acid
EDTA Series

Organophosphoric

Other Chelating Agent